Behind like 2 weeks getting this post up but rolling through some today.
The party went great. Rearranged my living room which worked out good giving more room behind me than having the couch there.
Most of the younger kids looked at and admired the Eyepet walking in and then ran off to our kids play room. They didn't really play much. We did have 2 boy a little older than most the group and they played the whole time. Got them through most everything on Eyepet we had unlocked and then got them started on a Start the Party game. They enjoyed and some of the other kids came out and played some as well on and off.
The adults really liked the Eyepet and how everything worked with it. Like how it picking up moving my hand in the air and it jumping, to rubbing it, and all the different types of interaction you could have with it.
Finally kicked the kids off and played with a friend of mine on a bunch of download-able demos that were available to play.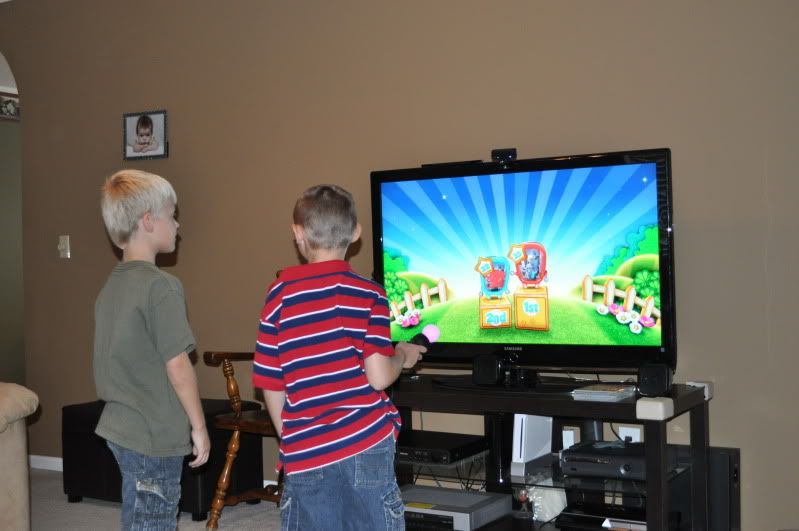 I'm the guy on the right in case you're wondering.
Here's a review of all the games played.
The eye cam has to be low to the ground. Doesn't work up on top of your television.
The pet looks good but the camera puts a blue tint on the screen where you see yourself. I think it's to let it recognize movements better somehow as I saw another game put a less darker blue tint on as well.
Lots of challenges to unlock and do in the game in order to do unlock everything.
Kids enjoying the drawing part with the motion controller.
Holding paper up to the screen for it to read and draw doesn't work all that well. Using a thick marker helps some but the camera reading it is still an issue.
Game unlocks things as you go but you have to do the challenge mode of it first to actually unlock it. So you see it unlock but you can't do it yet. That part of the game moves to fast for you to keep up with what all it shows you that you can do.
Bunch of silly party games.
Easy to do.
Fun for little kids.
Have to take turns using one motion controller.
Can tell it will get boring after a short time.
Neat game with the shadow complex.
Way too much talking in the demo. Hardly got to play any boards.
Can tell it will get hard at some point and I even tricked it once and skipped over making the actual picture and got the guy in the door.
You're shooting a film with a director saying good and bad things on what you're doing.
You only use the T button to shoot objects on the screen which are cardboard bad guys and objects.
It's a little fun but couldn't play 2 players on the demo.
Would be a good game to rent but not worth a retail price.
The accuracy in this game is amazing.
It only came with Frisbee golf and ping pong.
Would be worth owning for a mix of a different type of normal sport games.
Have to resync on each game with the controller when you start the game again even while still in it. That got old quick.
Probably the best demo I have played yet.
You ride around on a rolling office chair doing certain moves to get through the obstacle course.
Controls don't always seem to go like you want them too.
Got semi bored with it but looks like it could get hard later on down the road. Not sure why people seem to have extremely liked this game as it didn't pull me in that much.
My kids loved this.
Only can create in this demo. I wanted all the other options.
Music plus drawing on screen is a good combo.
Actual music playing overrides the sound when you're drawing. Need to turn that down.
Will probably end up buying this just for the kids.
Was very boring.
Crazy super big heads and over exaggerated facial expressions.
This game shows no appeal and I don't know why anyone would want it.
The only demo I had where I needed a navigation controller and I had to use my gamepad to play since I didn't get a navigation controller with the box.
Slow strategy war game.
Could be fun if you're into that sort of thing.
Got a little bit of a learning curve to figure out how to play the game. Lots of things to do and remember to fully perform good in the game.
Played tennis on it but the accuracy compared to the Sports Champions demo sucks. They should have taken some advice from them. It doesn't have any where near the accuracy like Sports Champions does.
I didn't think my tennis game was ever going to end so we just quit playing.
Steer clear of this game.
The strategy in this looks like it could get hard and fun all in one.

It's a slow paced game but you get wrapped up in trying to stack the blocks to do what it's asking you to do.

You get to do more than just stacking. I got to use mines to blow up some blocks as well to have them fall over for points.

The game has more to offer and would be worth getting to see what all you'll be able to do.
So I had a successful party to say the least. Even had snacks for everyone to munch on throughout the afternoon. I think we need to do another one. I wonder if they'll do a Kinect one. It would make my day if they did and we got in on it.